Welcome to W.F. Loyd Painting, Inc.

W.F. Loyd Painting is a professionally operated business with offices and a warehouse located in Newport, NC. Our many years of dedicated  service to Carteret County and surrounding areas, Cherry Point and Camp Lejeune have afforded the company with an excellent reputation.
We provide superior workmanship in all areas of painting for commercial, residential and industrial jobs. With over 30 years of experience, we offer our customers a complete knowledge of products, product longevity, dependability, and professionalism.

We look after our customer's interests as well as our own.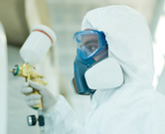 We believe in a "hands on" approach to business. The employees of the company are involved in all aspects of the work. We do not leave our clients with a subcontractor they have never met or spoken with. Whether commercial buildings or homes, new construction or renovation, we treat each job as a personal one.
Our mission is to deliver a quality job for a reasonable cost.